What a Business Owner Can Learn from Ted Baker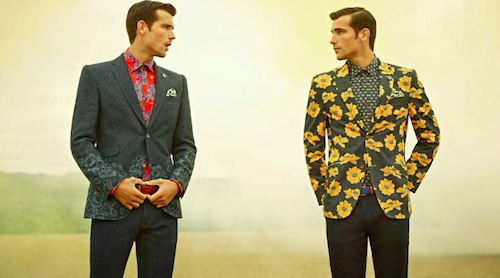 When it comes to clothing and fashion, everyone's got their "thing" that they love, right? C'mon, even the big burly guys have their thing- maybe beard oil or something like that.
Something you invest in and pay good money for because of how it makes you feel- maybe more confident, more put-together, more powerful.
For me, it's a pair of nice shoes (I'm a big Allen Edmonds guy). For my wife, she likes to invest in nice handbags.
A few years ago, she introduced me to a London-based clothing and accessories company called Ted Baker that made these really nice handbags with quirky patterns on the inside.
When I went to their website, I was blown away.
I didn't find a typical high-end clothing company site-cold, plain, and lacking in personality. I actually found the opposite.
Ted Baker's site had a playful personality to it, hinting at some sort of 'mad scientist' designer that came up with all this weird (but expensive) stuff that sold like crazy. To add to the intrigue, no one knew who this 'Ted Baker' guy was.
So naturally, I did a little digging.
I came across this article by Graham Ruddick at the Telegraph- a little piece on Ray Kelvin, the ACTUAL founder of Ted Baker (who also still refuses to be photographed).
The article talks about how Ray built Ted Baker from a humble shirt shop in London to a $700m+ company in 25 years.
As I read down the article, I came up with some takeaways I thought my be useful to you:
How to Know What Part of Your Small Business to Work On
Halfway down the article, Ray says this:
"I had to be quite ugly and assertive for the first seven years to stay in business, but once we got past that, then it was about hug culture.

Then it was about how can we make this the best? How can we care for people? How can we make the best food? How could we do the best massage?"
This quote struck me because a talk my wife and I had 24 hours previously.
She works for a very successful, thriving small business. Like most of us entrepreneurs, I was sitting on the couch with my laptop, trying to come up with some new product ideas. I was drawing a blank. So I asked my wife, "What kind of content would your boss pay for? An SEO course? A copywriting how-to? Perhaps a private consultation for lead generation?"
To this, she responded that her boss doesn't really get into that stuff- he cares more about keeping office morale high, and figuring out ways to motivate his employees and keep them efficient and happy.
Funny- that's exactly what Ray Kelvin at Ted Baker is concerned about!
So what's the takeaway?
The Two Stages of a Small Business
Here's what I took from this:
There are TWO stages of building a small business, cleverly 'metaphorized' as a bodybuilder:
Stage 1: The Exponential Buildup
This is your building stage, but it lasts longer than you think- usually 3-5 (or even a few more) years.
Think of this like starting a routine to become a bodybuilder; you start going to the gym, building the muscles, eating the right food, packing on the healthy pounds, establishing your routines, and so on.
AKA- it kinda sucks. Progress is slow at first… then you catch a break! Then it's slow again. Then… ANOTHER break!
Translated to building a business, this is the early stages of building: getting your systems in place, building referrals, laboring tediously over your product offerings, services, website copy, etc. It's an external process.
It's also the stage where you're standing at the bottom of the mountain, looking up, thinking, "Geez… I'll NEVER get there."
Stage 2: The Steady Maintenance
This usually comes after a few years, but you start to shift: you shift from building and building to more maintaining (more of a SLOW build) while now focusing more INTERNALLY, on your employees and how to make them happy. Your reputation has been built and is much more established, so now the progress of the company relies a little more on the inner-workings.
As the 'boss', you become less a little less of a trainer and more of a 'coach', giving your insight where needed.
Two different stages of business, neither one less important than the other.
With that in mind, which of the two stages are YOU in?
The first stage, where you're building local/national relationships, trying to get featured in magazines/blogs, advertising like crazy, and doing more of the upfront investing (while developing systems and generating leads?)… or the second stage, where all the groundwork has been laid, and you're working on maintaining the relationships you worked hard to build as well as being creative and encouraging your employees?
Either way, here's what to focus on in each part of the process:
STAGE 1 GOALS
If you're in Stage 1, here's what will give you the most return right now:
Establishing systems
Create systems that will sustain you when times get tough. Systems for creating content, following-up with leads, creating new customers, generating traffic. Even systems for product creation and brainstorming.
Put systems in place early on, and you'll be way ahead of the curve.
Lead Generation
A newer business needs a way to constantly be bringing in new folks to become potential customers. Instead of laboring away on little things, spend the first part of your morning making sales or generating new leads.
Building Referrals
Once a new customer has purchased from your business, how do you treat them afterwards? If you're still small, you can stand to send them a small handwritten note thanking them for their business, and asking for a referral.
Take a lesson from real estate agents here- they know the importance of referrals (as well as the exponential, quick growth that can come from getting referrals). It's free, word-of-mouth advertising.
Don't be afraid to ask for the referral either- if you do a good job for someone, they'll be more than happy to refer you.
Staying local/concentrated
Don't make the mistake of branching out/opening new locations too soon, even if you have a couple of good months. Stay focused on one location, one city, one region.
So many small businesses come crashing down when they try to expand out too quickly.
Not unlike a local band trying to build a fanbase- conquer your current market!
Niching down
In that article mentioned above, Ray talks about how they started small- they became famous on the back of a trendy shirt- THEN they expanded out into bags, pants, dresses, coats, etc.
I'm with ya- as a business owner, we want to take over the universe, and get scared that niching down (or as we see it: "limiting ourselves") will be our demise- what if no one wants the single thing we sell??
Try to resist this fear- by niching down and focusing on a flagship product or service, you stand a much better chance to make that EXCELLENT for your clients or customers.
Effective advertising
Most early small businesses have pretty small bank accounts. Despite that though, they go out and spend TONS of money on advertising- buying up billboards and TV spots and Google ads.
This is not necessarily a BAD thing, but you have to use it in the right way.
Are you tracking your advertisement? Do you know if it's effective or not?
If you spend $4k on a highway billboard, you need to know it's bringing in at LEAST that much revenue (how? Put a unique, trackable link to your website on the billboard using bit.ly or goo.gl).
Whatever you do, remember that advertising isn't an expense- it's an investment. Make sure you're tracking your investments.
STAGE 2 GOALS
Retaining awesome employees
When your business gets more established, the Stage 1 problems start to fall away and a whole new set of problems arise. It's the college football problem- when a small school has a coach that starts winning a bunch of games, the big schools (or in this case, the Fortune 500 businesses) come a'callin. It's your job here to figure out how to retain them.
Nurturing relationships
Phew, you've spent years building relationships, referrals, and all that- now yo have to maintain them. Whether it's sending out occasional gifts, taking them to lunch, or even just making a phone call, you've already made the 'friend'- now you have to keep in touch and keep that wheel greased up!
Motivating people who work for you
The more employees you take on, the less attention you can pay to each one. It's easy to make everyone feel loved and important when it's a team of three working out of your garage. When you get up into the double digits (or even triple digits), it becomes a lot harder to check in on everyone and make sure they're happy.
Spend a day a month reaching out to your employees (as many as you can) and just check in- find out how they're doing, how their family's doing, if they're having any problems. This personal touch from the Big Boss will go a long way.
Branching out
Now might be a good time to look at expanding (maybe opening that second location or going more 'national' with your business). You've conquered the local market and have built relationships with people that can help you expand. Your systems are in place, your employees are happy, your product or service is good- maybe it's a good time to replicate the process elsewhere.
So those are my 2 Stages of a small business. Follow the advice of Ray Kelvin- start small and focus, then build and work on keeping those (who helped you grow) happy.
Let me know what stage you're in, and some other areas you focus on for that stage.